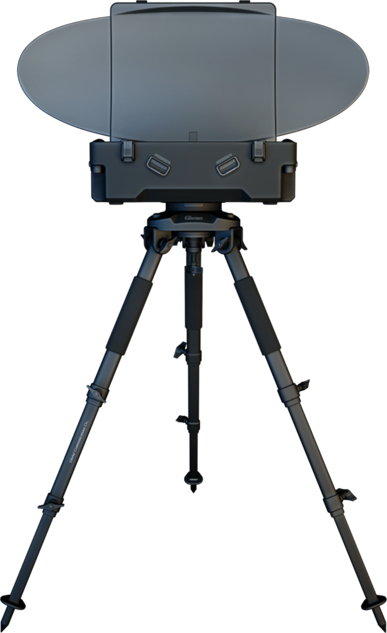 Man Portable Surveillance and Target Acquisition System
(Detecting of tank, armored fighting vehicles, personnel etc...)
■[Mission]-The Man portable Surveillance and Target acquisition radar detects ground targets (including tank, armored fighting vehicles, personnel) and measures coordinates (range, azimuth) in any season, including poor visibility conditions. Man portable Surveillance and Target Acquisition Radar is a highly versatile low-power, high-performance ground surveillance radar. The Man portable radar provides wide-area surveillance to a maximum range of 10 km, day or night and in all weather conditions. This system can be carried by two persons, and put into action in less than five minutes. This radar can be installed at army barracks, police checkpoints for surveillance and operation as well as schools for security and protection ■ [Concept of Operation]-Targets are classified automatically using target classification in terms of Doppler effectiveness, with output Doppler return being channeled to the operator. ■[Operating Principle]-The radar detects and tracks several kinds of ground targets including a crawling person as well as vehicles in a high probability with a sophisticated device and signal processing technology such as LFM impulse compress, range side removing, frequency-agile, FFT filter group process, solid transmit technology. The target reflection signal into the antenna is input to RF front–end with SAW filter through the circulator. The target signal of intermediate frequency mixed with the local oscillation signal that comes from the local oscillation unit through the SAW filter and the limited amplifier. The digital target signal converted in the signal processing unit is processed, so the final target information (range, azimuth) is obtained. On the display, an operator simultaneously tracks the locus of several targets. And it identifies the kind of selected targets.
[Key features]
■Easy to deploy in battle field ■Operating in all seasons ■High versatile low-power, high-performance ■Maximum 10Km in day and night at all weather conditions ■Wide usable area in army barracks, police check points for surveillance, VIP protection etc...
General Specifications
| | |
| --- | --- |
| Detection range | |
| Pedestrian | Not less than 4km |
| Moving Vehicle | Not less than 10km |
| Resolution | |
| Range | Less than 50m |
| Azimuth | Less than 1.6deg |
| Co-ordinate Measurement Precision | |
| Range | Less than 30m |
| Azimuth | Less than 1deg |
| Antenna Directivity Angle | |
| Horizontal Angle | (1.6 ± 0.2) deg |
| Vertical Angle | (3.5 ± 0.5) deg |
| | |
| Antenna Azimuth Operating Range | ± 45deg |
| Antenna Rotation Speed | Less than (4± 1)deg/s |
| Target Indication | LCD, sound |
| Moving Target Speed | 2~60Km/h |
| Set-up/Tear-down time | 5 minute |
| Weight | 32kg |
| Size | 458x408x230mm |
| Power Source and Consuming Power | |
| Power Source | DC12V |
| Consuming Power | Less than 30W |
| Environment | |
| Operating Temperature | -30~60°C |
| Storage Temperature | -50~70°C |
| Humidity | 98% |
| Vibration | MIL-STD-810E |
| Shock | MIL-STD-810E |