GE-2100 Tactical Network Intercom System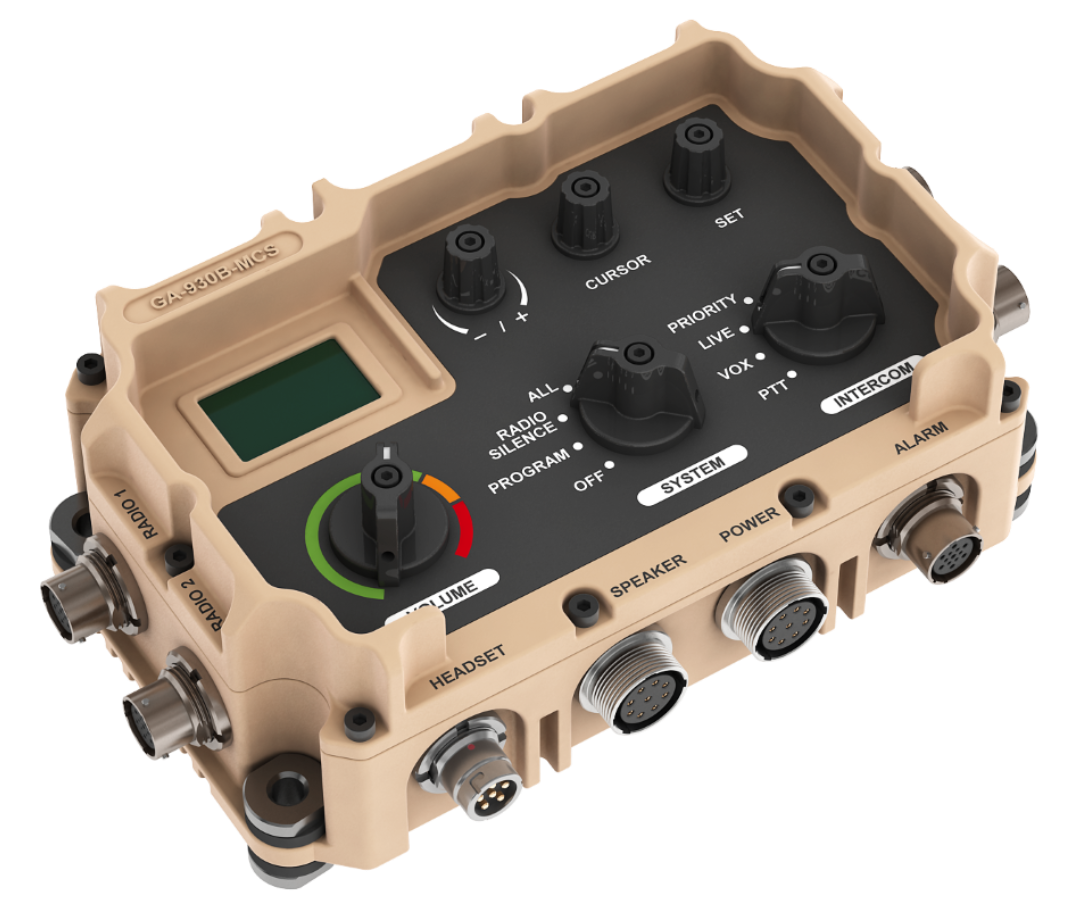 SMALLEST, LIGHTEST, MOST POWER-EFFICIENT
INTERCOM SYSTEM AVAILABLE TODAY
Tough terrain and noisy environments are no match for the Glocom GE-2100 Tactical Networking Intercom System. This Victory/GVA(1)-capable solution delivers clear voice and data between crew members operating within the limited confines of military vehicles. The GE-2100 supports HF, VHF, UHF, SPR and LMR communications technology, reliably connecting dismounted personnel, Tactical Operations Centers (TOC), maritime and vehicular units.
The GE-2100 is interoperable with the Glocom family of tactical radios, as well as other military, government and commercial devices. The modular, customizable design makes the system easy to install and configure based on the specific needs of the mission.
Glocom GE-2100 is a 3rd generation vehicular intercommunication system, based on Glocom's proven Software Defined Radio (SDR) platform. The decentralized, IP-based architecture enables seamless connectivity with legacy and IP-based radios, as well as with routing and voice services. Lightweight, compact and easy-to-use, Glocom GE-2100 features innovative dismounted mission capabilities, easy installation (in compliance with NGVA protocols) and configuration for a wide range of operational scenarios. As a modular expansion of Glocom family of products, the GE-2100 is a true force multiplier, providing a decisive advantage on the modern battlefield.
MASTER CONTROL STATION (MCS)
The heart of the system
The Glocom GE-2100-MCS Master Control Station is the foundation of the networking intercom system. Advanced technology eliminates background noise, delivering clear voice communications and data-sharing capabilities for up to eight crew stations and two combat net radios. The vehicle's system status, crew station controls and indicators are also monitored by the unit for greater control of the system.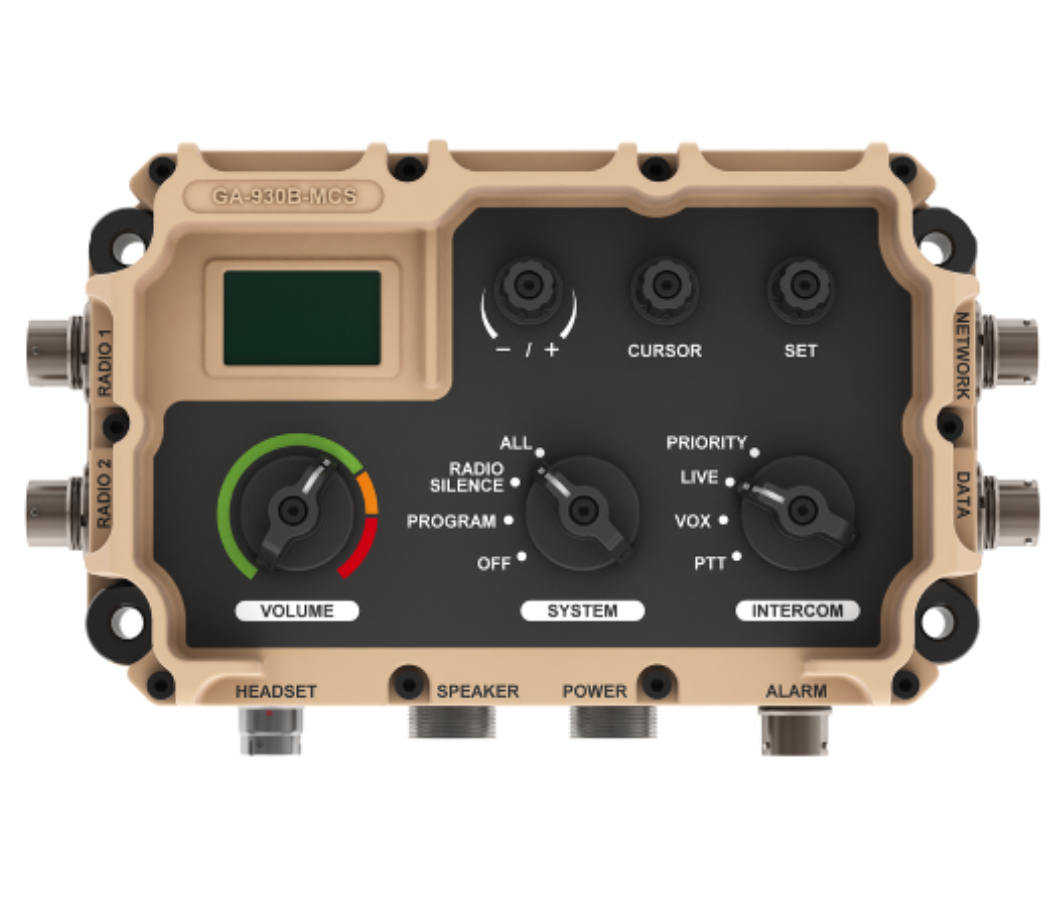 Simple, easy-to-install 4 wire highway cable connects the central unit and crew stations, reducing unnecessary cabin clutter
Power-efficient, modular system for mission flexibility
Software-configurable and upgradeable through a simple, PC-based user interface
More efficient, simultaneous data and voice through a single connection for up to 2 radios
Provides power, programming, and configuration capabilities to crew stations and active noise reduction headsets
Integrates battle management system and situational awareness applications
Provides duplex streams of 64kbps digitized PCM voice channels, and duplex streams of digital synchronous communication with data and control signals of the serial asynchronous ports
| | |
| --- | --- |
| Input Voltage Range: | 9~36VDC |
| Current Efficiency: | 1.5A@24VDC |
| Size: | 50mmx126mmx172mm |
| Weight: | 2.2Kg |
Advanced and modular IP intercom
Decentralized system architecture
Compact design for combat platforms
Support for IP Routing and VoIP services
Seamless integration with IP and legacy radios
Digital audio processing including VAD and ANR
Voice groups – for use with SDR-Radios
10 easily customizable operation modes
Simple and intuitive multilingual user interface
CREW CONTROL STATION (CCS)
Easy access to continuous voice and data for crew
The Glocom GE-2100-CCS Crew Control Station provides preprogrammed operation modes through a hands-free plug-and-play interface. The crew can control the selection of internal communication setting modes, the selection of selective calling mode, the selection of radio, the volume control. The vehicle's system status, Crew Station controls and indicators are also monitored by the unit for greater control of the system.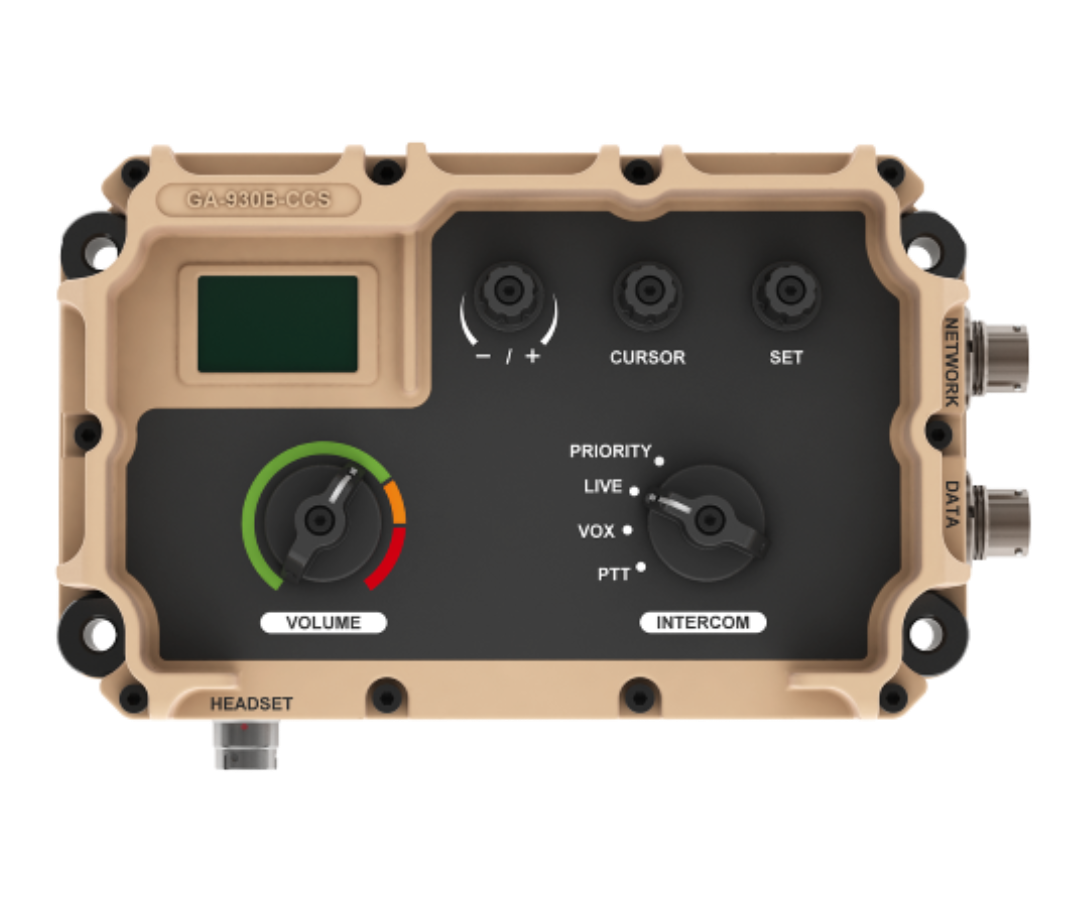 Remote radio control of Glocom radios from crew station at distances of 2Km
Delivers continuous voice and data communications
Communicate urgent messages quickly and reliably
Ideal for executing time-sensitive, critical operations
| | |
| --- | --- |
| Input Voltage Range: | 9~36VDC |
| Current Efficiency: | <40mA |
| Size: | 50mmx126mmx172mm |
| Weight: | <1Kg |
GE-2100-MBT Main Battle Tank
Advanced decentralized vehicular intercommunication system for the networked battlefield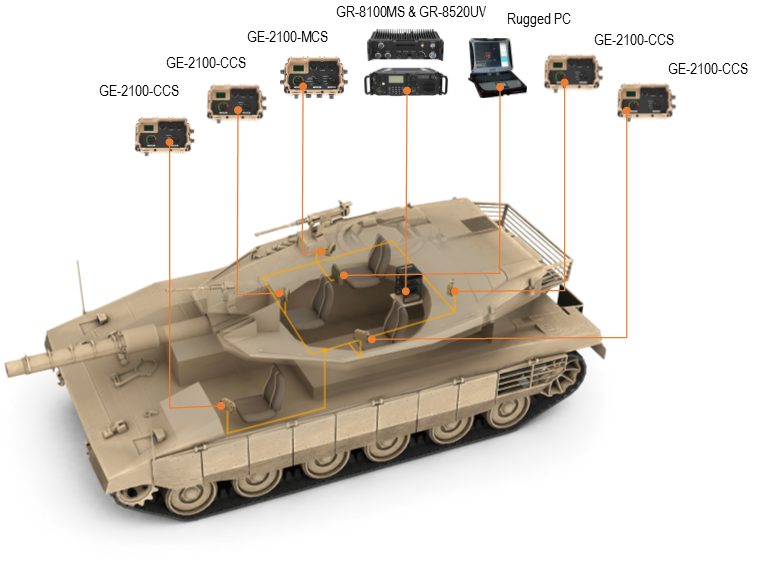 GE-2100-MBT
| No | DESCRIPTION | MODEL | BRAND | UNIT | QTY |
| --- | --- | --- | --- | --- | --- |
| 1 | Master Control Station | GE-2100-MSC | Glocom | Pc | 1 |
| 2 | Crew Control Station | GE-2100-CCS | Glocom | Pc | 3 |
| 3 | HF/VHF Mobile Radio | GR-8100MS | Glocom | Set | 1 |
| 4 | HCDR | GR-8520VU | Glocom | set | 1 |
| 5 | Rugged PC | S410 | Getac | Set | 1 |
| 6 | Helmet | | Glocom | set | 4 |
| 7 | Intercom Software | GE-2100-SOFTWARE | Glocom | Copy | 1 |
GE-2100-APC Armored Personal Carrier
Advanced decentralized vehicular intercommunication system for the networked battlefield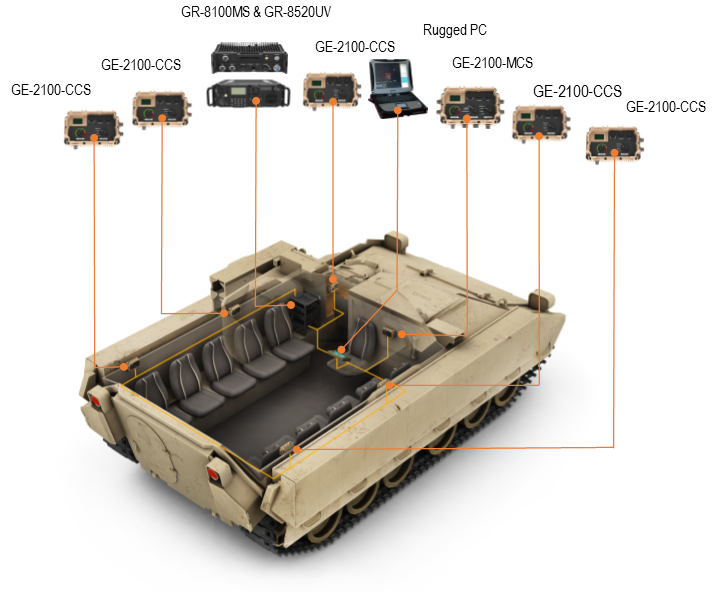 GE-2100-APC
| No | DESCRIPTION | MODEL | BRAND | UNIT | QTY |
| --- | --- | --- | --- | --- | --- |
| 1 | Master Control Station | GE-2100-MSC | Glocom | Pc | 1 |
| 2 | Crew Control Station | GE-2100-CCS | Glocom | Pc | 5 |
| 3 | HF/VHF Mobile Radio | GR-8100MS | Glocom | Set | 1 |
| 4 | HCDR | GR-8520VU | Glocom | set | 1 |
| 5 | Rugged PC | S410 | Getac | Set | 1 |
| 6 | Helmet | | Glocom | set | 6 |
| 7 | Intercom Software | GE-2100-SOFTWARE | Glocom | Copy | 1 |
GE-2100-IFV Infantry Fighting Vehicle
Advanced decentralized vehicular intercommunication system for the networked battlefield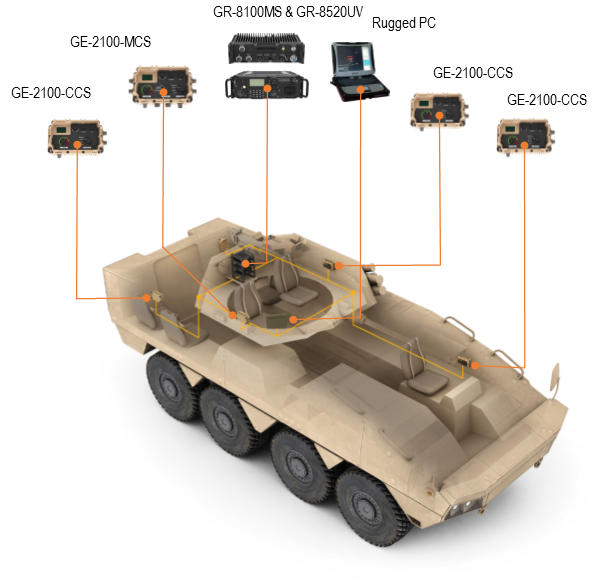 GE-2100-IFV
| No | DESCRIPTION | MODEL | BRAND | UNIT | QTY |
| --- | --- | --- | --- | --- | --- |
| 1 | Master Control Station | GE-2100-MSC | Glocom | Pc | 1 |
| 2 | Crew Control Station | GE-2100-CCS | Glocom | Pc | 3 |
| 3 | HF/VHF Mobile Radio | GR-8100MS | Glocom | Set | 1 |
| 4 | HCDR | GR-8520VU | Glocom | set | 1 |
| 5 | Rugged PC | S410 | Getac | Set | 1 |
| 6 | Helmet | | Glocom | set | 4 |
| 7 | Intercom Software | GE-2100-SOFTWARE | Glocom | Copy | 1 |
GE-2100-LAV Light Armored Vehicle
Advanced decentralized vehicular intercommunication system for the networked battlefield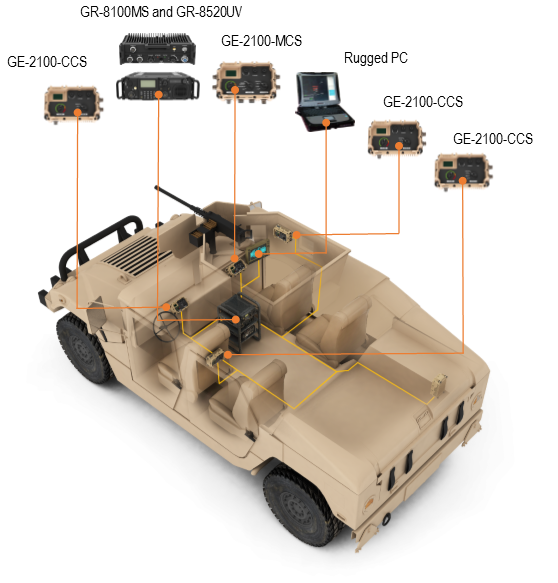 GE-2100-LAV
| No | DESCRIPTION | MODEL | BRAND | UNIT | QTY |
| --- | --- | --- | --- | --- | --- |
| 1 | Master Control Station | GE-2100-MSC | Glocom | Pc | 1 |
| 2 | Crew Control Station | GE-2100-CCS | Glocom | Pc | 3 |
| 3 | HF/VHF Mobile Radio | GR-8100MS | Glocom | Set | 1 |
| 4 | HCDR | GR-8520VU | Glocom | set | 1 |
| 5 | Rugged PC | S410 | Getac | Set | 1 |
| 6 | Intercom Software | GE-2100-SOF | Glocom | Copy | 1 |
GE-2100-IAV Infantry Armored Vehicle
Advanced decentralized vehicular intercommunication system for the networked battlefield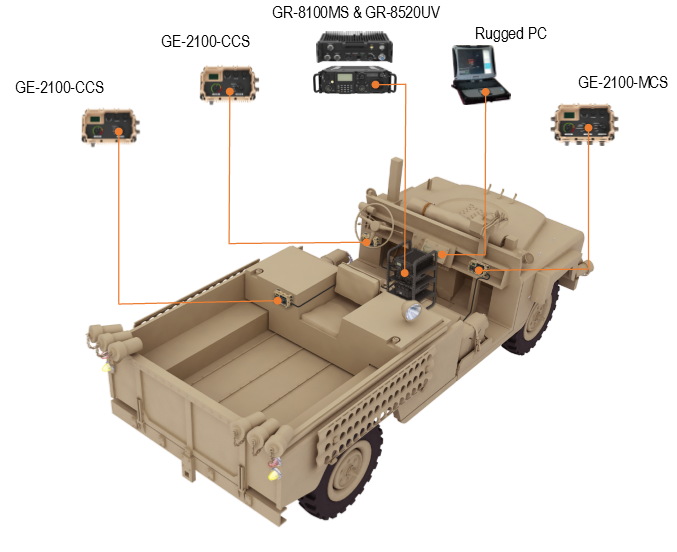 GE-2100-IAV
| No | DESCRIPTION | MODEL | BRAND | UNIT | QTY |
| --- | --- | --- | --- | --- | --- |
| 1 | Master Control Station | GE-2100-MSC | Glocom | Pc | 1 |
| 2 | Crew Control Station | GE-2100-CCS | Glocom | Pc | 2 |
| 3 | HF/VHF Mobile Radio | GR-8100MS | Glocom | Set | 1 |
| 4 | HCDR | GR-8520VU | Glocom | set | 1 |
| 5 | Rugged PC | S410 | Getac | Set | 1 |
| 6 | Intercom Software | GE-2100-SOF | Glocom | Copy | 1 |
GE-2100-SHIP Patrol Boat/Submarine/Ship
Advanced decentralized vehicular intercommunication system for the networked battlefield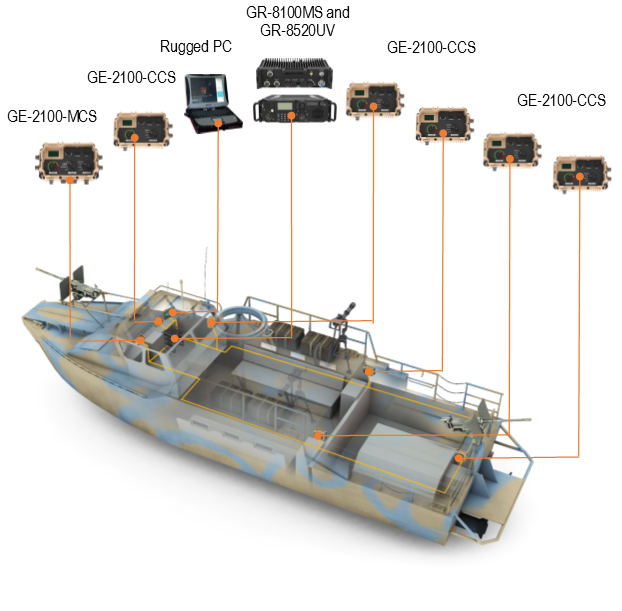 GE-2100-SHIP
| No | DESCRIPTION | MODEL | BRAND | UNIT | QTY |
| --- | --- | --- | --- | --- | --- |
| 1 | Master Control Station | GE-2100-MSC | Glocom | Pc | 1 |
| 2 | Crew Control Station | GE-2100-CCS | Glocom | Pc | 5 |
| 3 | HF/VHF Mobile Radio | GR-8100MS | Glocom | Set | 1 |
| 4 | HCDR | GR-8520VU | Glocom | set | 1 |
| 5 | Rugged PC | S410 | Getac | Set | 1 |
| 6 | Intercom Software | GE-2100-SOF | Glocom | Copy | 1 |
Glocom Battlefield Communications Architecture