GS-940 Integrated Communication Management Tool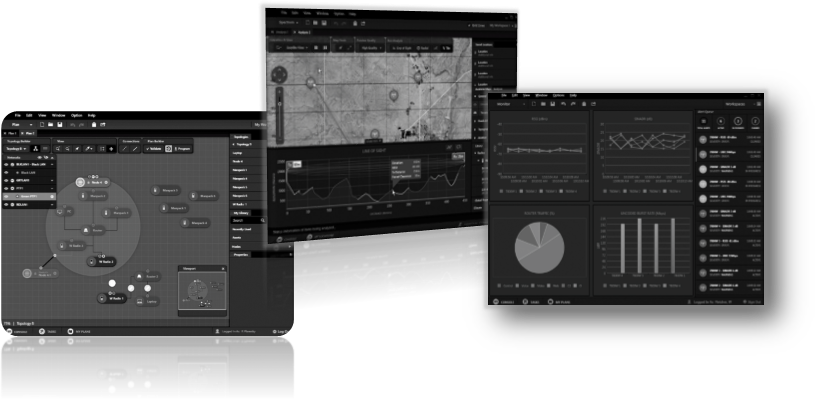 Features
■Integrate all the tools under a single user interface ■Simplified training and operation of applications ■Shared data model between applications ■ Modular, service oriented architecture for extensibility and adaptability
Communication management is the systematic planning, monitoring, and revision of all the channels of communication within an tactical unit, and between units; it also includes the organization and dissemination of new communication directives connected with an unit, network, or communications technology. Aspects of communications management include developing corporate communication strategies, designing internal and external communications directives, and managing the flow of information, including online communication. The GS-940 Software Suite provides all the tools necessary to plan, configure, provision, deploy and maintain a Tactical Area Communications System.
As communication networks grow more complex, communications professionals depend on a variety of tools, applications and areas of expertise to configure, deploy and manage Combat Net Radio (CNR), telephony and data networks.
The GS-940 Software Suite unites those functions under a single user interface and shared data model called the GS-940 Core. This creates a more efficient, easier to train, and easier to use experience for today's signals professionals.
The GS-940 Core provides a set of shared services and interface elements that are used by all applications in the GS-940 Software Suite. The GS-940 Core facilitates communication and information sharing between applications for a unified experience.
The rest of the GS-940 Software Suite consists of three applications, GS-940-Plan, GS-940-Spectrum and GS-940-Monitor, each with distinct roles and responsibilities.
The shared data model of the GS-940 Software Suite allows seamless sharing of information between applications, eliminating the opportunity to introduce errors by a cumbersome import and export, or copy and paste operations. After provisioning, this information often must be re-entered into a network monitoring and management application to deploy and manage the network, or a complex network discovery task must execute. The GS-940 Core ensures that information need only be entered once, minimizing the opportunity for error.
GS-940-Plan
Planning, configuration and provisioning of wireless networking assets
Features
Configuration and provisioning of commercial networking devices and Glocom radios
Logical, node-based grouping of assets according to organizational architecture
Network move and redeployment planning support
Persistent asset and node inventory to easily create multiple plans with the same equipment
Integration with other applications in the GS-940 Software Suite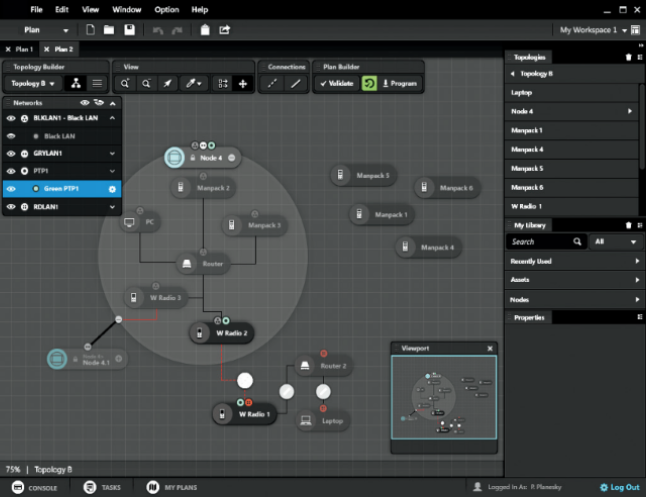 GS-940-Plan enables network planners and administrators to create and deploy flexible networks of diverse communications equipment within dynamic environments and applications. Plan features an intuitive interface for connecting, configuring, validating and provisioning commercial networking equipment and Glocom radios.
GS-940-Plan reduces overall training costs and operational delays by supporting both wired and wireless network planning for a wide variety of equipment. Operators and administrators learn a single interface and set of tools that assist not only in network planning, but in the other applications of the GS-940 Software Suite.
GS-940-Plan works in conjunction with the other applications in the GS-940 Software Suite, sharing asset inventory, topologies and configuration details. Communication planners can directly use information from Plan in GS-940-Spectrum to validate the performance of planned radio networks and make any necessary changes before provisioning and deploying equipment.
Once the network has been planned and validated, the asset inventory can be imported into GS-940-Monitor for performance monitoring and management. This eliminates lag time between overall network planning, RF analysis and validation, and network monitoring and maintenance.
GS-940-Spectrum
RF analysis and frequency management
Features
Integrated GIS view for operational visualization and planning
Multiple models for path and area coverage analysis for Glocom and other radio products
Custom software models of Glocom tactical radio products
Customizable templates for other generic radio products
Integration with other applications in the GS-940 Software Suite
The GS-940-Spectrum provides tools necessary to successfully plan deployments of radio networks in a variety of frequency bands and environmental conditions. Spectrum delivers software models of Glocom tactical radios and can be extended to include other radio equipment.
The GS-940-Spectrum enables users to perform line-of-sight (LOS) and area coverage predictions, visualizing them in an interactive, map-based GIS interface.
These predictions are translated into potential performance to give communication planners a reasonable expectation of field performance considering a variety of inputs.
The GS-940-Spectrum integrates with the other applications in the GS-940 suite for a smooth and fully integrated experience. By sharing information directly with the GS-940-Plan, network planners can move smoothly from network planning into RF analysis and validation.
GS-940-Monitor
Monitoring and management of deployed, operational networks
Features
Support for distributed peer-to-peer or hierarchical network management model
Fault monitoring and reporting
Event correlation and analysis
Integration with other applications in the GS-940 Software Suite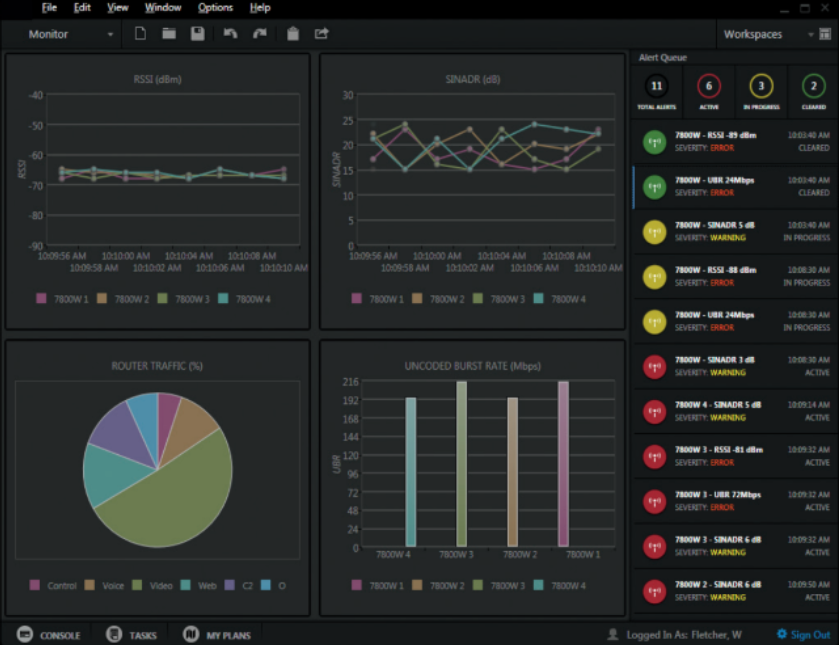 The GS-940-Monitor provides a powerful, enterprise-class network monitoring and management solution tailored for dynamic, highly flexible environments. Designed from the ground up to be flexible and scalable, the GS-940-Monitor provides a global view of the network while operating with federated installations located throughout the network. This translates to situational awareness at the local level, reduced over-the-air management bandwidth and increased change management capability.
Monitor incorporates a powerful rules engine, enabling network administrators to focus on key performance measures to make automated decisions to resolve common problems. Monitor integrates with other applications in the GS-940 suite to reduce setup and change time, and provide users an improved overall experience. Monitor can directly import asset inventories and configuration information from GS-940-Plan and display all important performance information to communication planners working on deployments, or redeployments of units and assets.
Ordering Information
No
DESCRIPTION
MODEL

Function

1
Integrated Communication Management Tool with full function for Windows
GS-940W-PSM
✓
✓
✓
2
Integrated Communication Management Tool with full function for Android
GS-940A-PSM
✓
✓
✓
3
Integrated Communication Management Tool with plan and spectrum for Windows
GS-940W-PS
✓
✓
4
Integrated Communication Management Tool with plan and spectrum for Android
GS-940A-PS
✓
✓
5
Integrated Communication Management Tool with plan and monitor for Windows
GS-940W-PM
✓
✓
6
Integrated Communication Management Tool with plan and monitor for Android
GS-940A-PM
✓
✓
7
Integrated Communication Management Tool with spectrum and monitor for Windows
GS-940W-SM
✓
✓
8
Integrated Communication Management Tool with spectrum and monitor for Android
GS-940A-SM
✓
✓
9
Integrated Communication Management Tool with plan for Windows
GS-940W-Plan
✓
10
Integrated Communication Management Tool with plan for Android
GS-940A-Plan
✓
11
Integrated Communication Management Tool with spectrum for Windows
GS-940W-Spectrum
✓
12
Integrated Communication Management Tool with spectrum for Android
GS-940A-Spectrum
✓
13
Integrated Communication Management Tool with monitor for Windows
GS-940W-Monitor
✓
14
Integrated Communication Management Tool with monitor for Android
GS-940A-Monitor
✓